Siding Without Compromise: Celect®

Created for our Canadian climate extremes, Celect® cellular siding combines rock-solid durability never-before seen in the siding industry plus a seamless look that wood only dreams about. The colour finish has a 25-year warranty and the patented inter-locking construction ensures a look that lasts so long it will probably be the last siding you'll ever buy.
This siding doesn't just withstand the heat and cold – it defies it! It won't crack or warp when it gets cold – even if a ball or branch makes contact.
In several gorgeous siding styles that reproduce the deep grain texture and solid heft of real wood, and a palette of designer colours that will stay gorgeous for decades, you will enjoy the increased curb appeal for as long as you own your home.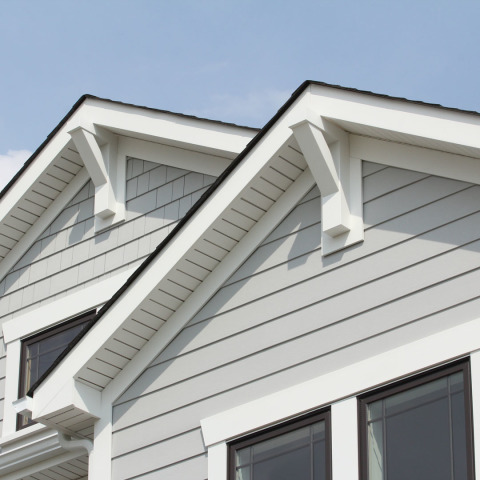 Maintenance
Truly maintenance-free. There are no mildew or rot issues, no warping, no blistering, no peeling, or de-laminating. The Kynar Aquatec® finish has a 25-year colour warranty and is UV resistant.
Durability
Celect siding is easily cleaned with a garden hose and its seamless assembly means that there are no nail holes, no caulking, and no warping. No painting, no caulking, no hassle. Lighter and easier to install than fibre-cement siding, Celect gives you the timeless look of wood with none of the upkeep.
Climate
Designed here in Canada, Celect siding is made for our weather and the seamless design can withstand winds up to 130 mph.
Cost
A little more expensive on average than our other siding options, Celect siding will save you days and dollars over its lifetime in energy savings, with no-maintenance or re-painting. Relax and enjoy your beautiful home and save the painting for inside.
Aesthetics
Truly, the colour lasts, every Celect installation comes with a 25-year colour protection warranty in a wide range of colours. The trim and corners are also finished in Kynar Aquatec® which means that every part of your siding will stay beautiful. The patent-pending interlocking joint system eliminates overlap, caulking and warping, keeping the boards straight and the seams… invisible.
Green
Celect cellular siding is 100% recyclable and has twice the R-value of wood and fibre cement, insulating 70% better than wood. Also, the unique white substrate helps lower heat absorption, keeping your home warmer in the winter and cooler in the summer.
Feel Great About Your Home… and Your Contractor
We've been serving thousands of satisfied customers since 1996, there is no one better to help you increase the value of your home or commercial building in south-central Ontario.
Book your free quote Now!